ExPIC 2009 (Nov 16-17, 2009)
4th ExPIC, Kuala Lumpur 2009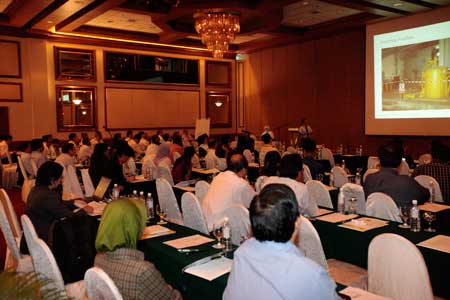 ExPIC 2009 In Progress
ExPIC 2009, the 4th annual Explosion Protection Industries Conference to promote awareness and advances in technologies for equipment in explosive atmospheres was conducted successfully with 80 participants. 10 experts presented a total of 16 papers over the two days conference.


Ir Haji Naguib, TC EEA Chairman on
Malaysia's Direction On Ex Standards.

Wenglorz on Instrinsically Safety.

Dr Wittler on Ex Equipment Repair Standards.

Dr Lienesch on Guide To Ex Motor Rewinding.
The papers presented include latest research, trends in Ex equipment design; sharing of the experts experiences in regarding Ex installation, maintenance, inspection; clarification & interpretation of Ex markings and Ex certificates; latest revisions and pending changes in the IEC standards on equipment for use in explosive atmospheres.

ExPIC 2009 was held in Hilton Hotel, Petaling Jaya on Nov 16 & 17, 2009. The Board of Engineers, Malaysia approved 8 CPD hours for Professional Engineers attending the full conferences - Approval Ref: BEM/REG/12 Jld.1.


Manggau, Shell Brunei on Ex Motor Repair.

Ir Haji Halim on Petronas Ex Inspection Plan.

Ir V Harindran On Hazardous Area Instrumentation.
ExPIC 2009 invited expertises from Germany, Switzerland and Malaysia who are experts in different ex area to share their experiences, new industries standard and requirement. The presentation topics were as per stated below:
Explosionproofing Standards & Requirements – Malaysia's Direction
Hazard Identification (HAZID) - A Plant Layout Prospective
Marking
IECEx Scheme Certification System
Trends IEC 60079-14 Electrical Installations design, selection and erection
Intrinsic Safety – Verification & News from the Standards
Repair of electrical equipment according to IEC 60079-19
Guidance for repair of low voltage windings systems of electrical machines
Petronas Ex Inspection and Impact To The Ex Related Industries
Intrinsically Safe Bus Systems – Introduction to FISO
IEC 60079:
Electrical apparatus for explosive gas atmospheres -
Part 15: Construction, test and marking of type of protection "n" electrical apparatus
Temperature measurements of electrical machines to specify the temperature class
Instrumentation for Hazardous Area
Electric Heating Systems for Hazardous Area
Motors for applications in hazardous area
Service Facilities and Personal Competency
Ex Experts - Peter, Lienesch, Wenglorz, Whittler, Gerhard
For those interest with the presentation topic stated above, please kindly sign up as New User or use your existing Username and Password to view or download the presentations.