ExPIC 2007 (Aug 20-21, 2007)
2nd ExPIC, Kuala Lumpur 2007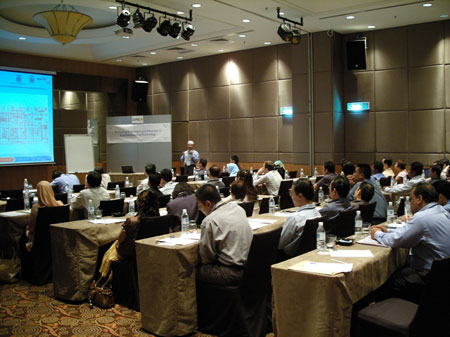 Ex Inspection in MLNG Plant, Bintulu - Sharing of Experience
By Haji Adnan Mohamed, MLNG, Malaysia
ExPIC 2007 was the 2nd Explosion Protection Industries Conference in Asia. The Conference organized in Novotel Hydro Majestic Kuala Lumpur, Malaysia on 20th and 21st August 2007. ExPIC invited expertise from Germany, Switzerland, and Malaysia that expert in different area to share their experience, new industries standard and requirement. The presentation topics were as per stated below:
Dispersion Study Vs Hazardous Area Classification Study from Electrical Perspective at Petronas LNG Complex (MLNG)
Dust ignition protection - just a matter of IP enclosure protection?
Lighting Practices and Applications
Reflection of changes in the State of the Art of the certification process of equipments for use in hazardous areas. Once certified forever certified?
NEW IEC 60079-1 - influence on flameproof motors
New requirements for Highvoltage-machines "e" and "n"
Electrical Installations IEC 60079-14 (Design, Selection and Erection)
Methods to increase available energy in intrinsically safe circuits
Electrical Trace Heating Installations in Hazardous Areas
Ex Inspection in MLNG Plant, Bintulu- Sharing of Experience
Mixed explosion protection methods in modern Fieldbus systems
Galvanic isolation in UPS applications
Repair and overhaul of electrical machines (problems with the manual?)
A Case study on Repairs of "Ex" - "n" type motor as per Explosive Atmospheres - Equipment Repair standard IEC 60079-19
Flameproof electrical machines, practical test results and the problems
Challenges in inspecting Ex instrumentation equipment
For those interest with the presentation topic stated above, please kindly sign up as New User or use your existing Username and Password to view or download the presentations.