ExPIC 2008 (Aug 18-19, 2008)
3rd ExPIC, Kuala Lumpur 2008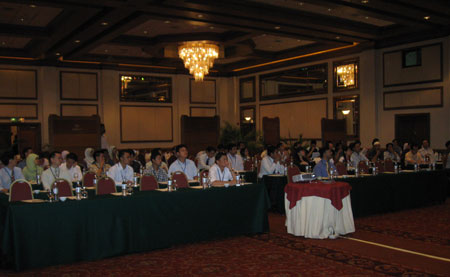 ExPIC 2008, the 3rd annual Explosion Protection Industries Conference to promote awareness and advances in technologies for equipment in explosive atmospheres was conducted successfully with 110 participants. 13 experts presented a total of 15 papers over the two days conference.

The papers presented include latest research, trends in Ex equipment design; sharing of the experts experiences in regarding Ex installation, maintenance, inspection; clarification & interpretation of Ex markings and Ex certificates; latest revisions and pending changes in the IEC standards on equipment for use in explosive atmospheres.

ExPIC 2008 was held in Hilton Hotel, Petaling Jaya on Aug 18 & 19, 2008. The Board of Engineers, Malaysia approved 10 CPD hours for Professional Engineers attending the full conferences - Approval Ref: BEM/REG/12.

ExPIC 2008 invited expertises from Germany, Switzerland, Dubai and Malaysia who are experts in different ex areas to share their experiences, new industries standard and requirement. The presentation topics were as per stated below:
Equipment integrity and people safety in oil, gas, dust and petrochemical industries
Flameproof enclosures - modifications and internal installation
Reading and interpreting of markings and certificates
Battery concepts for installation in hazardous areas
Adapting the spectral composition of artificial lighting to safeguard the environment
The use of plastic materials in accordance to the standard
Monitoring possibility of UPS systems and batteries
IP Protection – standard procedures or fit for purpose
Maintaining Ex Compliance - End-Users Perspective
Today's explosion protection methods for modern optical bus and fieldbus systems
Way forward for Ex 'n' motor driving centrifugal compressor with failed start pre-purge modification - A case study
Efficiency of Ex-drive systems - cost reduction possibilities
Status and Trends of international Standards
PETRONAS Ex Management System Road Map and Impact to Industries
Workshop - Design, Selection and Erection of Electrical Installations
For those interest with the presentation topic stated above, please kindly sign up as New User or use your existing Username and Password to view or download the presentations.
Please click here to download presentation papers
Participants Feedback For ExPIC 2008